If you click on the video below, you can watch an actual virtual tour of our warehouse from the perspective of a walk-in customer!
Experience Via Trading from the moment you walk in the door, to checking out our showroom and walking through the warehouse!
Here are some of the amenities we offer on-site:
Own merchandise pickup — If you have a pickup truck, u-haul or minivan and want to take your goods with you on the day of purchase, not a problem! Our warehouse team will help you load you up! Or if you prefer to arrange pick up with your own shipping company, you are free to do so!

Internet Kiosks — if you need to check your email, transfer funds for your purchase, research goods, look up some merchandise retail prices or read a manifest on our website, we have free internet machines available for you to use in our resource center.
Free Coffe, Tea/Hot Chocolate — Enjoy a cup of freshly brewed Wolfgang Puck coffee while you wait for your account manager or your merchandise!
Kids' Playroom

— If you visit our warehouse in a group with children and someone from your party is available to supervise the kids, we have a fully furnitured and accessorized play room to entertain them while the rest of your party shops!

Vending Machines carrying a variety of snacks and drinks to hold you over if you have a long drive ahead of or behind you!
Three meetings rooms for convenient conferencing or discussing any deals in a private environment.
ATM on site for your convenience!
Over 300 parking spots available! You'll never have to walk far when visiting us!
Reduced Mobility Scooter

– Want to come visit us but can't walk long distances? Worry not! We have a reduced mobility scooter available to borrow for those who need moility assistance while touring the warehouse.
Forms & Flyers — grab an informational flyer on Via Trading and the products we carry and events we host to refresh your memory after you leave. Pick up a

Flea Market Flyer

for hints & tips on how to sell successfully at flea markets, or pick up a

California Reseller's Permit application

that you can fill out and send to the Board of Equilization to obtain your permit, if you need one.
Projector and Warehouse Signage!

While browsing through our warehouse, you will always know what specials are going on, how much things cost and the descriptions of the items you're looking at thanks for our 8-foot wide projection screen and our one-of-a-kind signage system guiding you throughout your visit of our warehouse.
Plasma TVs

— While in our waiting area or showroom, take a look at the plasma screens all over the walls. They tell you about new arrivals, screen our multimedia presentation, and show you the pallets that will be up for auction at our next Live Auction.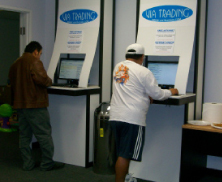 We hope to welcome you to our warehouse in the near future, but if you can't make it, we are always here for you on the phone, by email, or through the contact forms on our website!