We've just received more denim items! Fantastic for eBay, flea markets and discount stores, don't pass up on these lots!!
We are now offering wholesale clearance jeans, denim jackets, kids' denim, denim shorts & skirts and more!!
These are sure to make a great profit no matter what resale channel you are using!!
See our full assortment here: http://www.viatrading.com/product.jhtm?id=4770&cid=4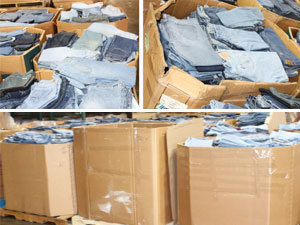 Ahora ofrecemos paletas y lotes de Jeans! Jeans para ninos, hombres, mujeres, jaquetas, shorts, vestidos y mas- todo de Jeans!
Las paletas de jeans le pueden ofrecer un buen valor si vende en yardas, swap meet, por internet o si tiene una tienda! Perfectos para exportacion tambien!
Puede ver la coleccion en este lazo:  http://www.viatrading.com/product.jhtm?id=4770&cid=4
Tags: bulk denim, bulk jeans, clearance denim, clearance jeans, customer return jeans, jeans supplier, jeans wholesaler, wholesale brand name jeans, wholesale branded jeans, wholesale denim, wholesale jeans