On Tuesday, June 5th 2012, Via Trading launched the Load Center, a real-time database of Via Trading's offers of full truckloads, partial truckloads, manifested single pallet lots, manifested case lots and opportunistic deals.
Wholesale buyers can now log on to the Load Center and see the available lots at a glance on one screen, saving valuable time and effort.
The Load Center was created in response to an expressed customer and employee need. While Via's website has undergone significant improvements over the last few years, it was still lacking a central place from which to view all available loads, sort them by category, price or other metrics, and obtain their manifests easily.  While our website had been efficient for browsing, reading through product descriptions and obtaining industry resources, it lacked the functionality and the ease of use that is integral to selling manifested lots and loads online.
After months of specifications and development, the Load Center is now available from any computer in the world 24/7!
Customers simply need to log in to their account on www.ViaTrading.com, click on "Load Center" and begin browsing. The Load Center is free to use for all members of Via Trading's community and anyone interested in purchasing liquidation merchandise for resale.
Updated multiple times daily, the Load Center offers users the ability to:
- View all available loads and relevant information
- Filter loads by various criteria (condition, price, location, store, category, etc.)
- View and download single or multiple manifests instantly
- Manipulate and summarize manifests
- See most recent loads added
- View discounted or "on sale" loads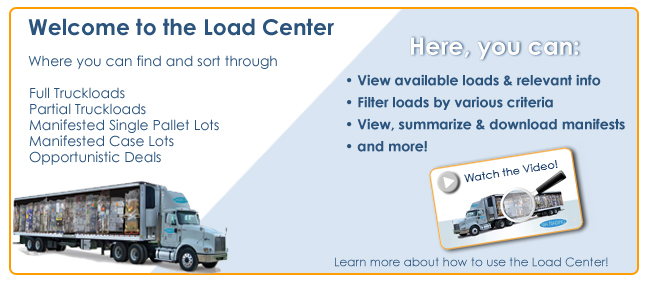 Visit the load center today to start exploring!
We are always available to help with any questions or concerns – simply email us at sales@viatrading.com or call 877-202-3616 and we'll be happy to help!
Please note: the Load Center is an extension of our existing website! Don't forget to visit our All Products page to see all available case packs, pallets and lots not listed in the Load Center!